OUR SURPLUS OF KEFIR GRAINS ARE SOLD OUT
***WE ARE SOLD OUT OF KEFIR GRAINS***
Go to
www.ask.com
to search for International Kefir List then Frank Gunther if that doesn't prove successful.
When you DO get your own kefir grains (from somebody else)...
Make delicious home cultured Kefir with your very own grains. Haven't found those kefir curds yet? Get the real thing here.
Don't get taken into buying starter packets that give you only a few batches of fakey kefir. Get the real thing!
This is a photo of two tablespoons of live kefir grains, all rinsed off so you can see exactly what they really look like: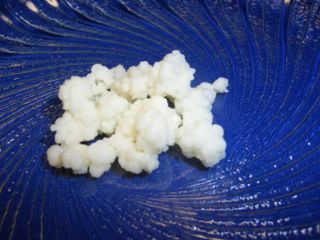 Kefir tastes slightly tart yet crisp. It is very healing and easy to make. I start with real kefir grains and a good raw organic goat milk because they thrive in it. You drink the liquid; that's the kefir we're talking about.
Get real live kefir grains!
Cool, yeah? Kefir curds are kinda like calimari - if you chew on them. That's squid, I tell ya. Calimari is squid. And these kefir grains are like having real good squid to chew on. Just make sure you grow enough of a surplus before you go munching them all down, k?